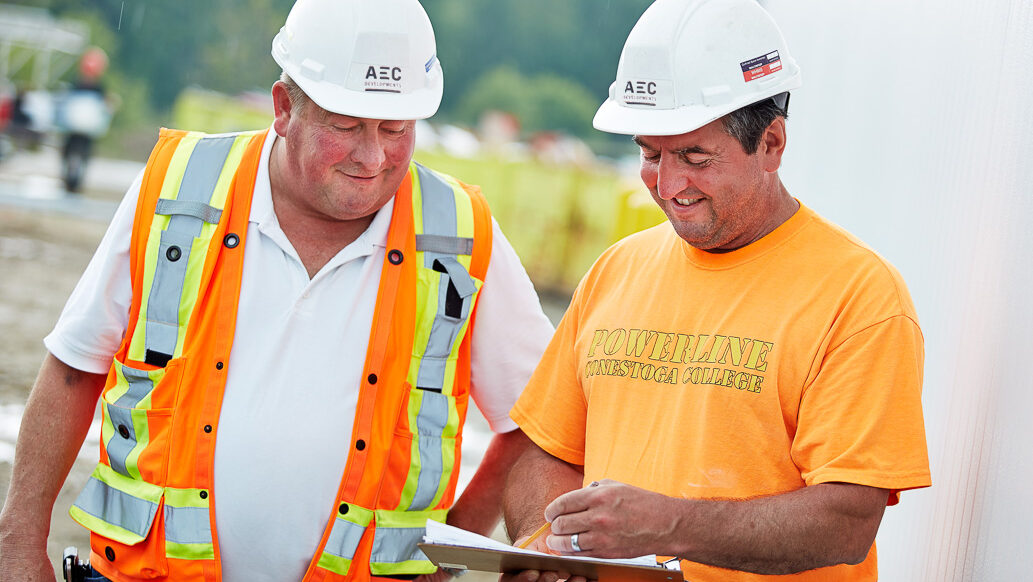 As construction professionals, health and safety is our top priority in everything we do both on and off the job site. Over the last 6 months, we have challenged ourselves to look closely at our health and safety program as we work through the Certificate of Recognition (COR) program for health and safety management. We caught up with AEC's president, Aaron Engel, to learn more about the COR certification process, construction safety, and the factors that contribute to a healthy and safe construction environment.

WHY IS HEALTH AND SAFETY SO IMPORTANT IN A CONSTRUCTION ENVIRONMENT?
Aaron: Health and safety is the most critical element of our work because every worker has the right to leave the site safely and return home to their family every day. It's something we have always taken very seriously because one oversight or one incident can be life-changing.
Since AEC was founded, we've always followed a thorough health and safety program that includes safety processes, formal training, toolbox talks, and frequent review of our policies and procedures. No matter what the project is, we make sure we know who is going to be working, who is going to be impacted, what hazards exist, and how we can protect against those hazards to make sure work gets completed successfully and safely.

WHY WAS AEC INTERESTED IN PURSING COR CERTIFICATION?
Aaron: COR is a nationally trademarked and endorsed program for health and safety management overseen by the IHSA (Infrastructure Health and Safety Association). To be COR certified, you go through a set, structured program to verify you understand potential risks, have fully implemented health and safety systems, and track your performance. The structure of the COR program puts our existing health and safety tools into an industry-standard framework, which makes performance easy to track so we can understand where we've grown and where we have opportunities to continue improving.

WHAT DOES THE CERTIFICATION PROCESS ENTAIL?
Aaron: We've completed operational phase 1, which includes the development of policies and procedures for all 14 elements of focus in the COR program. That phase included reviewing our company health and safety policies, training and equipment requirements, processes for inspections and investigation, and developing the tools we'll use to enact our health and safety program day to day. We're currently working on executing the program, which includes training all our team members on the policies and procedures, and integrating our health and safety tools into our regular workflow.
Once we've demonstrated that we have actively used our health and safety tools on real projects, an auditor from the IHSA will come in to review the program, verify our policies and procedures, and ensure every member of our team has a consistent knowledge of that information. Once the audit is complete, we will be considered COR certified. Audits are repeated every year to make sure we're always in alignment with the COR requirements.

WHAT BENEFITS DO WE EXPECT TO SEE FROM BEING COR CERTIFIED?
Aaron: We're already starting to see the benefits. While we've always had a robust health and safety program and have an excellent safety record because of it, this process has allowed us to dig even deeper. The detailed framework of the COR program also makes it easy for me or third-party auditors to check in at any time and make sure our policies, procedures, and tools are in line with industry best practices.
Beyond the benefits to AEC as an organization, one of the reasons we were interested in pursuing COR certification is the benefit it will give to our clients. The COR seal assures our clients that the safety of their site and project is backed by a strong foundation of programs, policies, tools, and training that are at the top of industry standards. Every client deserves to know that their contractor takes health and safety seriously. We want them to enjoy the construction process and be excited about their project with the confidence that it's in good hands.

WHAT ARE THE KEY FACTORS THAT CONTRIBUTE TO A HEALTHY AND SAFE WORKSITE?
Aaron: It comes down to the people. Even the strongest health and safety framework won't succeed if you don't have a team with the same mindset. It only takes one person working unsafely to cause an incident on site, so we want to ensure that everyone on every job – from the Project Manager and Site Superintendent down to each tradesperson – is equally committed to creating a healthy and safe environment.